…A Lake and More
Harlan County, Nebraska, located in the Republican River Valley on the border of Kansas, is many things to many people: a peaceful refuge away from the hectic pace of city life, a prime hunting and fishing region, a wide-open location in which to view and interact with nature, and a family vacation destination with a diversity of activities to suit a variety of interests. Rich in both Native American and pioneer history, Harlan County and the Republican River Valley were once home to the largest concentration of buffalo on the Great Plains and were a favored hunting ground for the Pawnee, Sioux, Cheyenne and Arapaho tribes. Although warned by the native populations about the common occurrence of major flooding in the area, Europeans settled along the river and in 1935 over 100 people drowned and most bridges and farm buildings were destroyed by an 8-foot-high wall of flood water moving downriver. The Harlan County Dam and Reservoir were then built to control flooding and manage irrigation, but they have since become the crown jewel of the region, serving as the prime outdoor recreation destination and wildlife haven in south-central Nebraska.
A prarie paradise for birds and birdwatchers
Harlan County Reservoir is one of the largest bodies of water within the North American Central Flyway and is a primary stopover for millions of migrating birds, including bald and golden eagles, American white pelicans, osprey, ducks and geese including Ross's and snow geese, seven species of gulls, and many more, including an occasional sighting of a great whooping crane. Over 300 bird species have been observed in the area. Parking lots, campgrounds, and local marinas around the reservoir make prime viewing sites.
For a more comprehensive list of species in Harlan County and along the Republican River, visit the nonprofit www.chickendancetrail.org and click on Republican River Adventure.
Walking, biking, ATV, horse & canoe trails
Trail enthusiasts will find a wide variety of trail types in Harlan County. There is no fee for the use of any of the trails.
The River's Edge Nature Trail is a packed-earth walking trail located just east and north of the Harlan County Dam spillway, within the U.S. Army Corps of Engineers' North Outlet Park. The trail winds through river bottom forest and is well-maintained with many trees identifi ed by markers.
The Pheasant Ridge Trail is a 3-mile concrete walking and biking trail winding along the north edge of Harlan County Lake from a gazebo off Highway 183 and South Street in Alma all the way to the Methodist Cove boat-ramp parking area, and like all good trails, it offers an entirely different experience depending on the direction of travel.
Cedar Run ATV Trail is a 470-acre, family-friendly riding area located south of Republican City and southeast of the Harlan County Dam. A staging area at the north parking lot includes a picnic shelter, grill, kids' riding area, and accessible restrooms and parking. A trailhead access and loading area with restrooms is also located in the south parking lot. The Corps of Engineers maintains a "Call Before You Haul" trail conditions hotline at 308-799-2105 and a map of the trail is available on-site.
A well-marked, volunteer-maintained horse trail meanders through the rugged hills bordering the south edge of Harlan County Lake. The trailhead for the Peckerneck Horse Trail is located just south of Alma and the lake, at the first turn east off Highway 183, immediately south of the bridge.
Hunting, fishing, camping/lodging, and watersports
Over 17,000 acres of public hunting ground is available on Corps of Engineers property around Harlan County Lake. The area is rich with white-tail deer, waterfowl, turkey, pheasant and quail. Other hunted species include rabbit, squirrel, bobcat and coyote. Many local lodging facilities have kennels available.
The lake is known to fishing enthusiasts far and wide for its walleye, wipers, northern pike, large mouth bass, white bass, crappie and catfish. Seven boat ramps are available around the lake, and free fish-cleaning stations are maintained at Hunter Cove Park and Methodist Cove Park.
There are nine well-maintained campgrounds in the county, and additional lodging options range from beachy cabins to B&B's to traditional motels. Holiday weekends are generally booked up well in advance, so early reservations are recommended for all lodging types.
Boating, water-skiing, and jet-skiing are some of the most popular watersports at the lake. A community yacht club schedules races throughout the year and can be contacted at 308-995-6609.
Guided tours of the dam
The U.S. Army Corps of Engineers offers free tours of the Harlan County Dam every Sunday beginning Memorial weekend through Labor Day weekend. The tours begin at 2:00 p.m. at the Corps office on Corps Road A just north of the dam. More information is available from the Corps at 308-799-2105.
Self-guided history tour
Harlan County has many historic homes and buildings along with outdoor historic sites. There is a county-operated museum in Orleans. A selfguided tour brochure of historic sites in Harlan and Franklin County is available at many area retail facilities and can also be requested from the Harlan County Tourism Office, 800-762-5498 or harlancountytourism@yahoo.com.
Motocross, gold, and live theatre
The Alma Motocross track is one of four on the circuit of the Cornhusker Motocross Association, with several races scheduled locally throughout the year. Race schedules are available at www.crnhskrmx.com. The track is open to the public for riding on days other than race days. The track is located 2.5 miles south and 2.5 miles west of Alma on Highway 89.
Alma and Oxford have nicely maintained nine-hole golf courses and many tournaments throughout the season.
The Harlan County Dam Players present live shows during the summer months at a community-owned playhouse in Republican City. Schedules and other information are available at http://harlancountyplayers.webs.com
Small-town festivals & special events
Oxford holds its Turkey Days celebration each summer on the second weekend in June. The fourday celebration includes a parade, carnival, contests and many other fun activities. Visit www.oxfordnebraska.com/turkeyDays.htm for more information.
Alma's 4th of July celebration is known far and wide for its 10K "Best Race by a Dam Site" and 5K fun run, parade, art-in-the-park, and the region's largest fireworks display over the water at the west end of the lake. This event is sponsored by the City of Alma and the Alma Chamber of Commerce.
Women's Wilderness Weekend, sponsored by Trailblazer RC&D, is held annually in August and provides women from all walks of life an opportunity to experience and learn about outdoor activities, including sailing, jeeping, hunting, boating, fi shing, outdoor cooking, and many others.
Stamford's annual Pork Days celebration is held on the last Saturday in September and includes a parade, children's games, craft and food vendors, and more. An annual favorite activity is the "best pet" contest, where creativity in what is considered a "pet" knows no ends, and every child wins. The Pumpkin Corners pumpkin patch opens the next day.
Orleans holds an Applefest celebration annually the first weekend of October. The event provides a craft fair, food and fun for all ages, including plenty of apples and cider.
Call, e-mail, or visit: Harlan County Tourism, 800-762-5498, 311 Main Street, Alma, NE 68920, harlancountytourism@yahoo.com.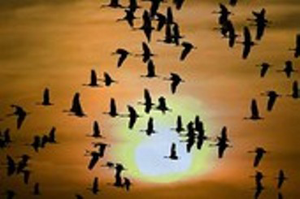 Snow Geese at sunset, Harlan County Reservoir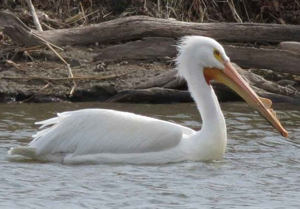 American White Pelican, Harlan County Reservoir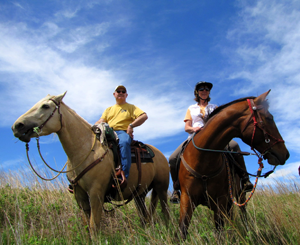 Horseback riding at The Peckerneck Trail, Alma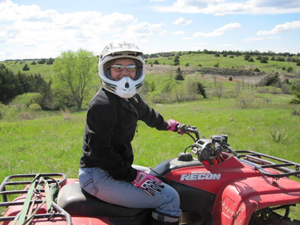 470-acre Cedar Run ATV Trail at the Harlan County Reservoir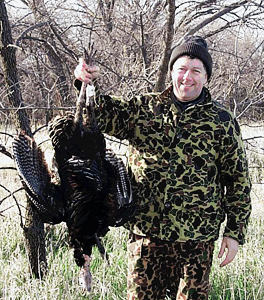 Turkey hunting is very productive in Harlan County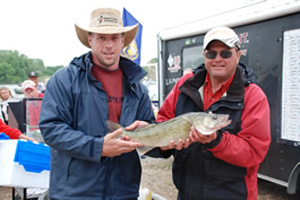 Walleye fishing tournament, Harlan County Reservoir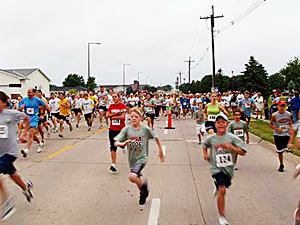 Best Race By A Dam Site, July 4, Alma